Jon Robertson crowned the 2021 iRX World Champion  
It was crunch time.
A whole season of brutal rallycross action, great races, bad races, jump starts, and dnf's, and all that separated the top 2 was a handful of points going into the final round at Charlotte Motor Speedway. Jonne Ollikainen for SETesports trailed Jon Robertson in the SubaruMotorsports USA by 6 points .
Yes 6 points.
This could go either way, but with a supporting cast of Kevin Ellis Jr and Jake Robertson in the RLLesport cars and Yohann Harth in the sister SubaruMotorsports car, Jon had some backup. If they could score strong in their heats, prevent any points being scooped up by SETesports, and gain favourable positions in the feature (If he made it) there was more than a chance he could beat 2020's 2nd place finish and claim the $10,000 prize.
iRX World Championships 2021, Final Round — Heat 1  
Kevin Ellis Jr vs Jonne Ollikainen…..you couldn't have written it. Kevin had a huge job on his hands to stop the SETesports star winning the heat and claiming pole for the feature.
First job done. Kevin Wins the heat with a dominant drive, keeping the lead from the first corner. Good start.
Kevin Ellis Jr – RLLesport – 1st
iRX World Championships 2021 Round 9 — Heat 2  
Heat 2, and it was Jake Robertson's turn for a strong drive to finish the season with the hope to do all he could to help his brother win the Championship. Qualifying 4th amongst 2 SET drivers who would undoubtedly;y be playing the team game as well, there was pressure here.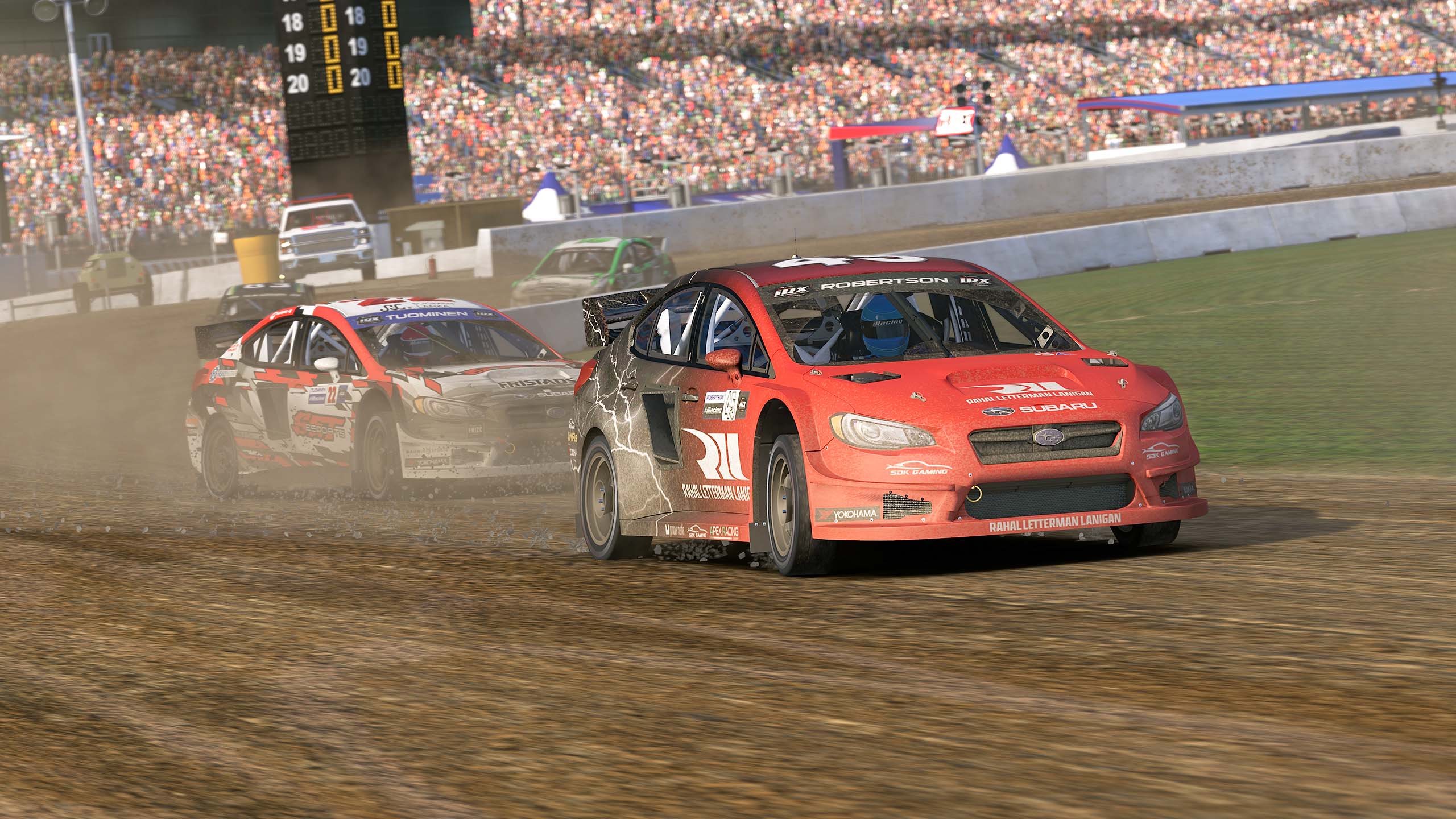 2nd job done! Jake drives a superb race, manages to not get taken out on the first lap and finished in 2nd, putting the 2 SET drivers out of the feature. Things are falling into place…..
Jake Robertson – RLL Esports – 2nd
iRX World Championships 2021 Round 9 — Heat 3  
Another huge race that could have a big bearing of the final outcome. Yohann lines up against Tommi Hallman, the other half of the SETesports, and a seriously quick rallycross driver. He could make things VERY difficult for Jon if they got through to the feature.
What we saw was a contender for the best heat race of the championship. Both drivers giving it everything they had, side by side through multiple sections, door banging, a mistake from Harth on lap3, more side by side, more door banging and finally to the finish line. Yohann wins. THAT was a race.
Yohann Harth – SubarumotorsportsUSA – 1st
iRX World Championships 2021 Round 9 — Heat 4  
2 heat wins and a second so far. Now it was up to Jon to do his bit, The others couldn't have done any more, an almost perfect execution. Clean race. Get to the feature. That's all that was needed.
And that's what he did. Leading from start to finish, from a very fast Jacob Rafoss, the blue and gold Subaru crossed the line in first place.
GAME ON
Jon Robertson – SubarumotorsportsUSA – 1st
iRX World Championships 2021 – The Final  
Surely there wouldn't be a better chance than this? 10 laps with 4 of the top 6 starting positions filled by Apex team drivers and the championship threat from Jonne Ollikainen relegated to a 5th p[ace start. Surely this was it. ?
We witnessed a battle for the ages.
Vincente Salas took the lead, with Kevin, Yohann and Jon sitting between him and the 2 charging SETesports cars who were not going to give this up easily, aggressive driving was needed, and aggressive driving is what we got. The first lap saw Yohann fighting with both cars, Jonne almost turned around in the melee and rescued by his teammate, left Yohann sitting between them going into lap 2.
Lap2 it bubbled over again, Yohann down the inside of Jonne looked risky, but the door was open, until the wall snagged, grabbed and threw him round right across the front of the SETesports challenger, Jonne. Yohann effectively out of the fight, but the battling had seriously impacted the SET car's charge on the leaders.
Lap 4 Jon took 2nd from Kevin during the Joker's and a tense final 6 laps followed. Vincente Salas was hauling in 1st place, but it didn't matter. Jon didn't need to take risks now. He needed to finish, and finish in front of Jonne.
And he did.
JON ROBERTSON – iRacing IRX 2021 WORLD CHAMPION
That feels good to type.
What a championship, superbly fought by 2 crazy fast SETesports drivers who pushed us to the final race. This was never a forgone conclusion and was topped off by that epic final. Superb.
And it didn't end there, Kevin Ellis Jr won the DirtFish Rookie of the Year award, and both Yohann and Jake retain their licenses for next year. 
Final Standings

Jon Robertson – 201 points | 2 wins
Jonne Ollikainen – 195 points | 2 wins
Tommi Hallman – 179 points | 3 wins
Yohann Harth – 132 points | 1 win
Kevin Ellis Jr – 121 points
Vicente Salas – 116 points | 1 win
Killian Dall'olmo – 96 points
Jarno Leskinen – 89 points
Jakob Rafoss – 69 points
Jake Robertson – 68 points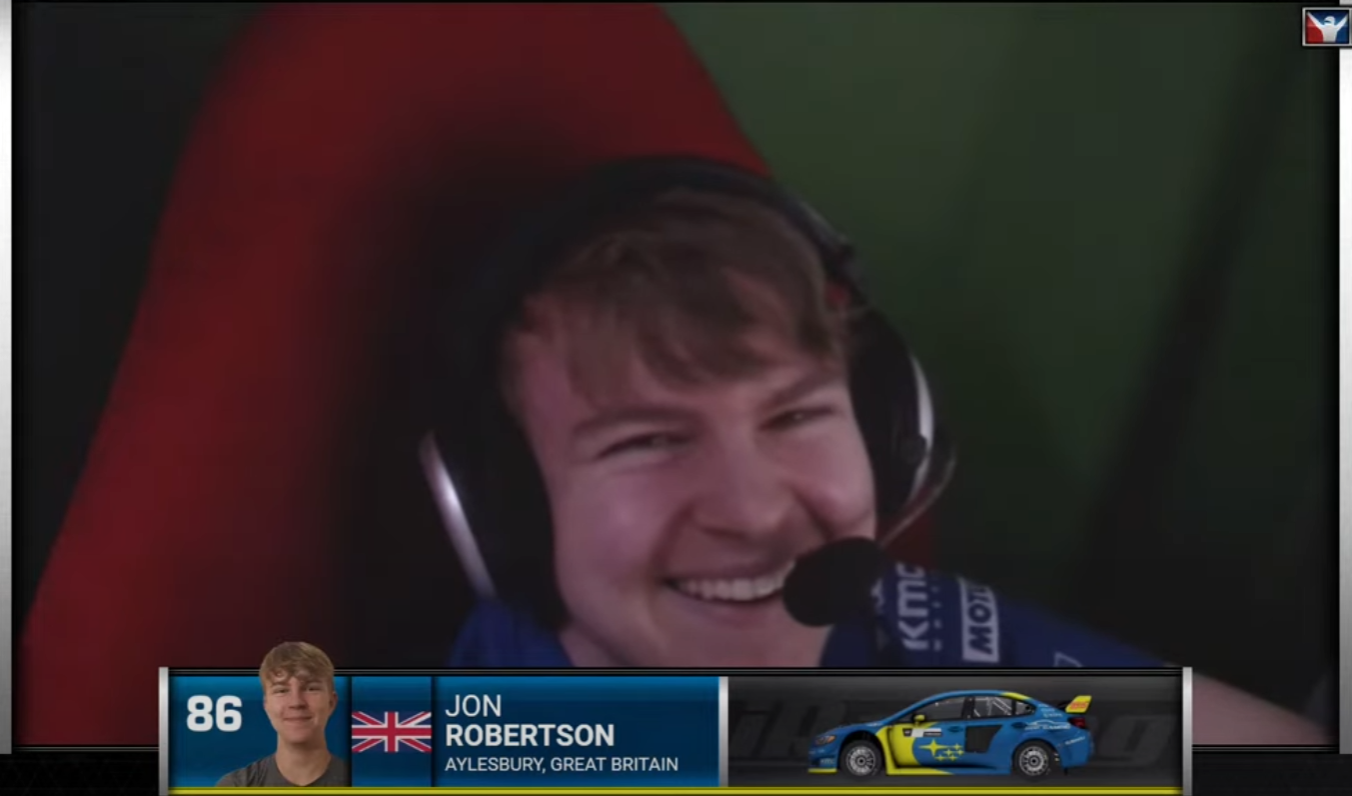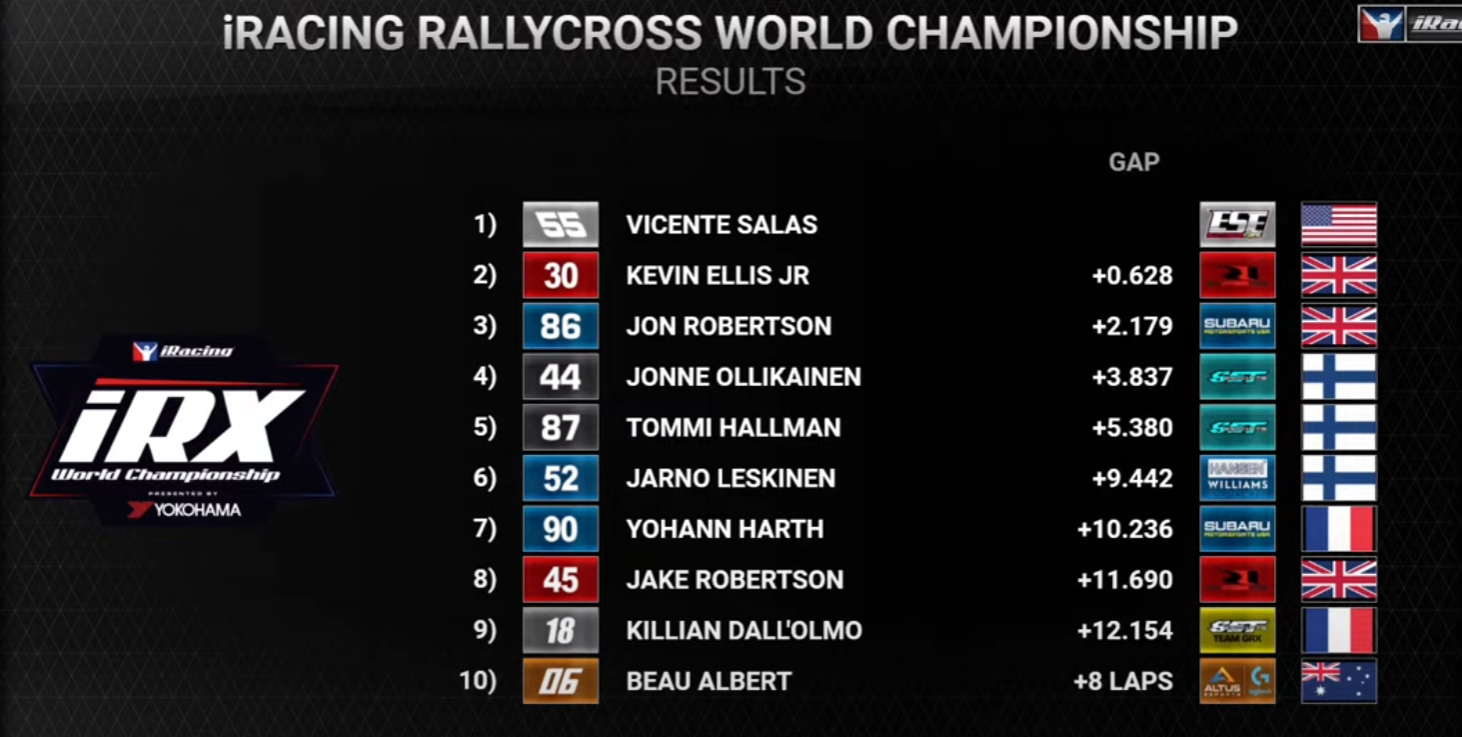 Yohann Harth – post race reaction
"We got it!
Qualifying didn't go as planned for any of us but we all executed in our heat races to lock out the front of the grid and control the Feature.
Super happy for Jon, he was a class above the rest this year."
Kevin Ellis Jr – post race reaction
"Feels good to end my season with a 2nd podium in my debut season and to help Jon so much in the last round to confirm him the championship makes it feel even sweeter.
Everyone in the team really clutched up on Wednesday night and did their job and that enabled us to win the title. What a group of guys, a pleasure to be apart of it."
Jake Robertson – post race reaction
Not the best season from my point of view, getting knocked around in the mid pack almost every race isnt the way i wanted the season to go however I have to put some blame on myself for not qualifying well in even my strongest tracks.
Happy to be able to retain my license on the last round, and ecstatic with the teams performance as a whole with Jon especially clutching the championship win in the last round, as a team we could really ask for much more.