It was close, and then it wasn't     
"The final meeting of Porsche Esports Carrera Cup GB took place on Sunday 8 May at a virtual Brands Hatch Grand Prix circuit, delivering high drama and excitement in two action-packed races. Kevin Ellis Jr's 16-point advantage going into the finalé was gradually eroded by a flying Sebastian Job, who did everything in his power to take the championship fight down to the very last lap of the final race. Scotsman Ellis Jr ultimately emerged ahead to be crowned 2022 champion." – Official Porsche Press Release
It was always going to come down to the final weekend. Red Bull Racing Esports and Sebastian Job were not going to give up their 2021 title without a fight, and that is what we got.
Heading into the final weekend, Kevin was 16 points ahead, but with 50 points across the 2 races, plus points for Pole and Fastest laps available it was far from over.
Peter Berryman was mathematically out of the title race at this point, but could he ultimately have a say in how the championship was to be decided?
A P2 for Peter and 3rd for Kevin in qualy was a great position to be in, splitting the Red Bulls, but a point lost to Sebastian Job could have proved decisive.
Porsche Esports Carrera Cup GB –  Race 1
It was a dream start for Team Apex. Kevin had pulled of a masterclass of a start and was on the inside of Job by Paddock Hill bend giving him the lead by the 2nd corner, and by the 4th, Peter had also slipped past Job to give the team a 1-2 on lap 1. (with Red Bull Esports P3 and P4).
And this is how it stayed, with Kevin pulling a gap, and Peter playing rear guard, with Job frustrated in 3rd. With 7 minutes gone, a forceful move into Sheen Curve on Peter left him in the grass and the 2 Red Bulls sailed past. A move that would ultimately have a huge bearing on the championship.
With 10 to go Sebastian had caught Kevin, and with a move down the inside at Paddock Hill bend, took 1st. Kevin was driving smart and knew a battle here could be disastrous for his championship aspirations and reneged the place without risking contact. P2 was enough with his now 15 point lead.
And that's how it stayed to the chequered flag Sebastian > Kevin >Graham > Peter
With Sebastian securing the Fastest Lap, the gap after race 1 had come down to 9 points in Kevin's favour.
Math was frantically being carried out in the engineers' room to determine what Kevin needed in the final race to secure the victory. Every permutation calculated. Every outcome analysed.
P1, P2, P3 would do it, but with countback a P3 would end in a tie and Red Bull would secure the championship by wins if Sebastian won, and got the fastest lap. Race 2 was going to be tense.
Porsche Esports Carrera Cup GB –  Race 2
Race 2 has a reverse grid from Race 1, leaving Kevin and Sebastian side by side on the 3rd row.
A disastrous start for Peter saw him tagged on Lap1 into Druids and P14 by the time he had recovered. Kevin was on his own, his wingman was out of it, but would he still have a say in the outcome????
What followed was a race for the ages, Kevin and Seb battled, and bumped, Connery Maddick and Paul Smith's commentary voices getting higher and higher pitched as the duel reached fever pitch.
Sitting in P3 (seb) and P4 (Kev) behind two out of place Porsche 992's due to the reverse grid, this was good enough even with Sebastian grabbing the fastest lap.
As the race rolled into its final half, the front 2 Porsches' capitulated to Seb's presence and easy passes gave him P2, with only his teammate left to pass, so it was always going to be P1. The story for Kevin was not the same. Fully entitled to defend their position, but not in 'championship deciding' risky ways, was preventing Kevin from moving past safely. Frustration was setting in as 4th was not enough, and it was looking like the championship would be decided by these out of place drivers.
With 8 mins to go Kevin finally safely passed one of the slower cars to get himself back into 3rd. But it still wasn't enough. They would end tied on points, but race wins would give Red Bull the win.
Enter Peter Berryman. If he could secure the fastest lap in the dying stage of the race, and take the point from Red Bull, it would be enough to secure Kevin the overall championship. 5 mins was all that was left on the clock. a couple of flying laps. Pressure doesnt get much bigger than this.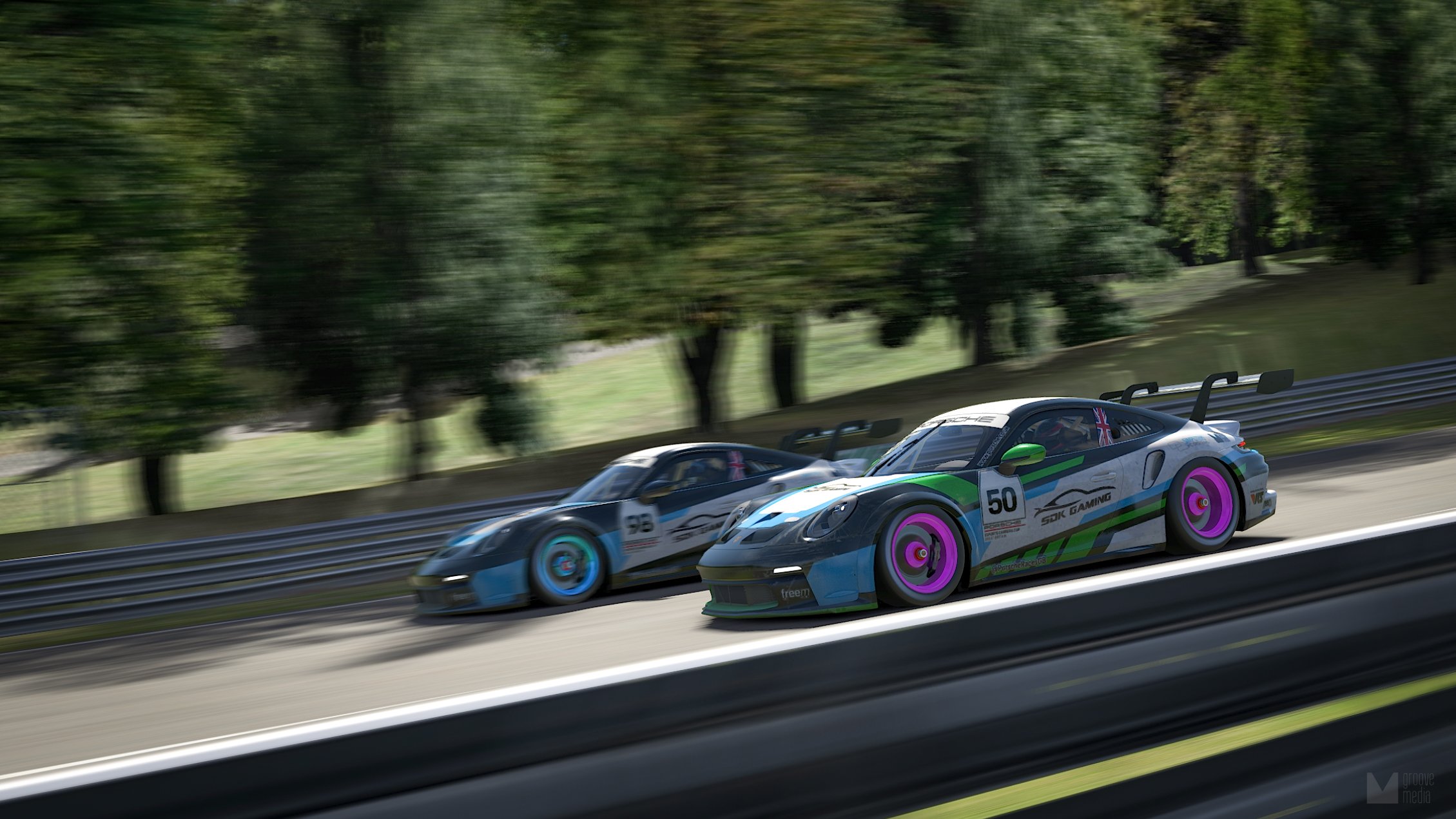 As Sebastian crossed the finish line, the 2 Apex cars entered the final couple of corners…… Peter had missed the fastest lap by hundredths of a second on the previous lap. This was the last chance. The final lap. It needed to be perfect, fresh tyres, low fuel, draft, everything was being thrown at it. It just needed Peter to deliver now.
HE DELIVERED.
Crossing the line with 1:23.697 snatched the fastest lap away from Red Bull and helped his teammate secure the Porsche Esports Carrera Cup GB title in dramatic fashion.
Or did it?
Results at this point are always provisional. The window for diver protests for things that happen across both races was open, and not until all of those have been thoroughly analysed by the stewards and any post race penal;ties handed out are the results finalised.
Looking at the filed protests, 12 in total, 10 involving the title protagonists, meant celebrations had to put on ice and an uncomfortable wait lie ahead.
As the hours ticked past, the Discord channels were full of race analysis videos, replays, explanations as everyone tried to second guess what the stewards would decide.
The news came late. Sebastian had been hit with a 5s penalty for forcing Peter off track in race 1, stripping him of the win and relegating him to 4th. The rest of the stewards decisions were inconsequential. It was enough. More than enough, and that meant Peter's final lap heroics actually had no bearing on the championship in the end.
Kevin was the official Porsche Esports Carrera Cup GB Champion!
The whole championship had ultimately been decided by Kevin's clean driving and lack of accumulated penalties across the season as a whole. The final standings back up what we have always known. Kevin is FAST and FAIR. A deserved champion.
Kevin Ellis Jr   "WOW, what a way to top off that season! Knew I had to make an adjustment after last season when we missed out by 1 point, and that definitely weighed heavily on my mind coming into the first round. I knew consistency and keeping clean would put us in a position that would make us hard to beat, even though I didn't quite have the best pace in the field.
Pete and I did a really good job maximizing every opportunity we were given. Although Pete's season didn't go how we wanted, he was still able to rock up every week and push me to improve. I had quite a few bogey tracks on this schedule and having a World Champion and driver of his caliber to drag me up to the level I needed was such a massive help. Couldn't have done this without him!
After my mistake at Oulton Park, I was really hard on myself and knew I had to step it up coming into Knockhill, where we bounced back with a Pole, P1 and a P2. From that race on, I knew just sticking to the plan would leave us in a good spot. It was the only real mistake I made all season so I need to take that as a positive and realise just how hard it is to be perfect week in week out against the Red Bull guys. They're relentless out there and make you work for every single point, credit to them.
Thank you to everyone at this team for being along for the journey. Their help on and off the track hasn't gone unnoticed, I appreciate every single one of them more than they know. Team Boss Alex Simpson for taking a punt on some short-tempered 19 year old Rookie almost exactly 5 years ago, this journey has been one hell of a ride and I can't imagine every racing for another team. This is just the start, we have more to do! Everyone at Virtual Racing School for coming onboard and helping us achieve this amazing Facility we've built. It's so cool getting to wake up and live your dream every day. Jonathan Walker at FreeM UK for hooking us up with their gear. Been such a great product and has exceeded my expectations, his standard of work is just unreal.
I was just some normal kid from Scotland when I started this 5 years ago, hard to believe where we are now. To all my friends and family back home, this one goes out to all of you!"