The penultimate weekend of the Virtual Racing School Sports Car Open Sprint Masters saw the team arrive at the Red Bull Ring full of confidence after last weeks strong points haul at Monza.
Race 1
A new track for competitive racing for the whole team, so this was going to be new ground on one of iRacings newest tracks. The altitude at Red Bull Ring however was going to put the lamborghinis on the backfoot from a power perspective, but the drivers have been strong in race pace all season so a strong qualy wasn't necessary. Was it?

Zac qualified the #99 car in 7th, and Maxime with his strongest qualy all season in 7th. So all looking pretty good so far.

The lights went green and the GT3's roared towards the Niki Lauda Kurve, cars jostling for track space, fingers being crossed at Apex HQ. Both cars made it through the first couple of corners unscathed, time to settle down and fight.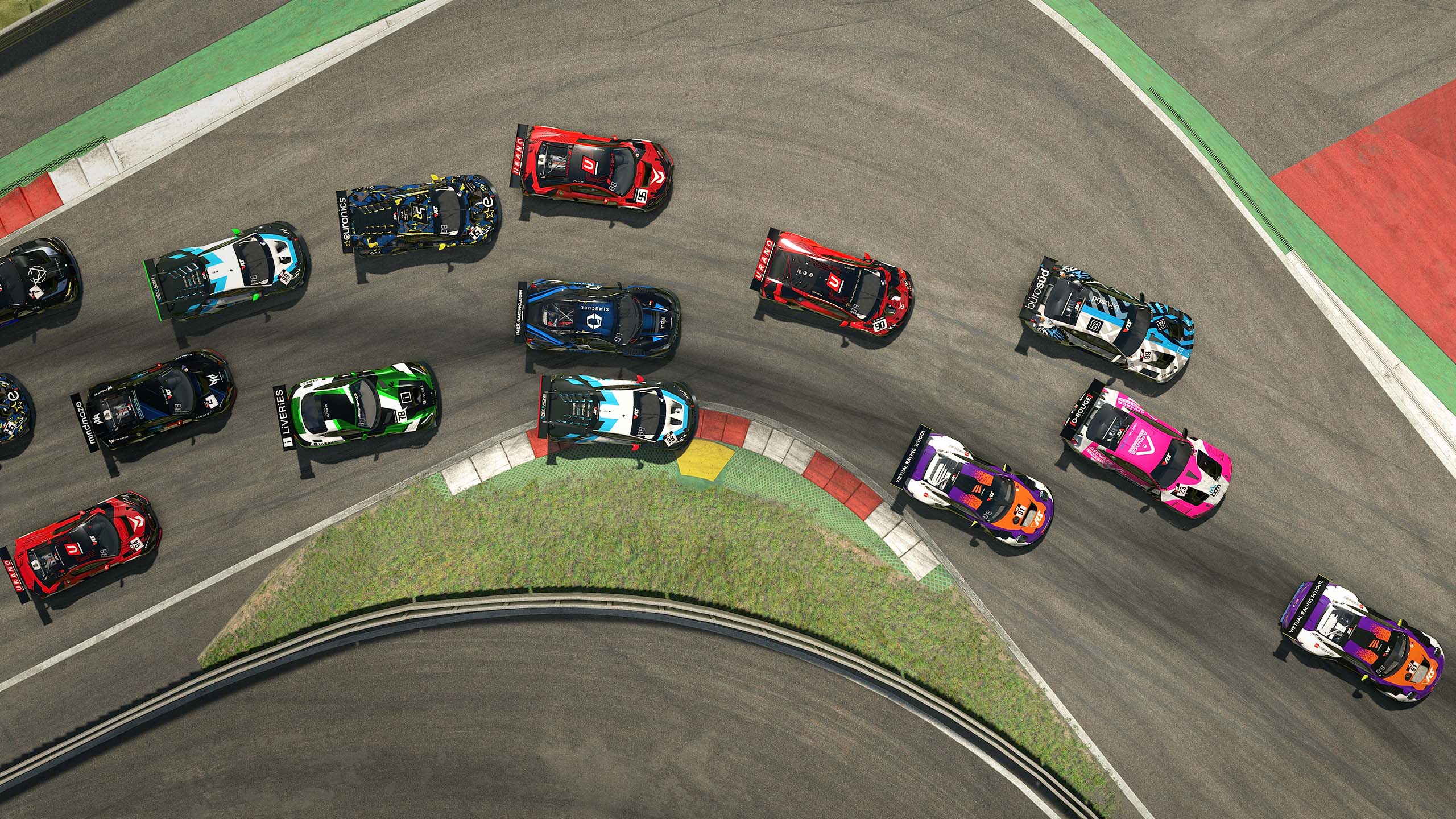 The next few laps however were not kind, with Kevin at the wheel of the 98 car finding himself in the right/wrong position at the wrong time on several occasions, battered and bruised in the melee and ultimately ending in the car's demise on Lap7, when a spinning Puresims Audi forked across the track and left evasive maneuvers against the barrier the only way around. The next half a lap proved the damage sustained was too great and the car had to be retired on Lap7.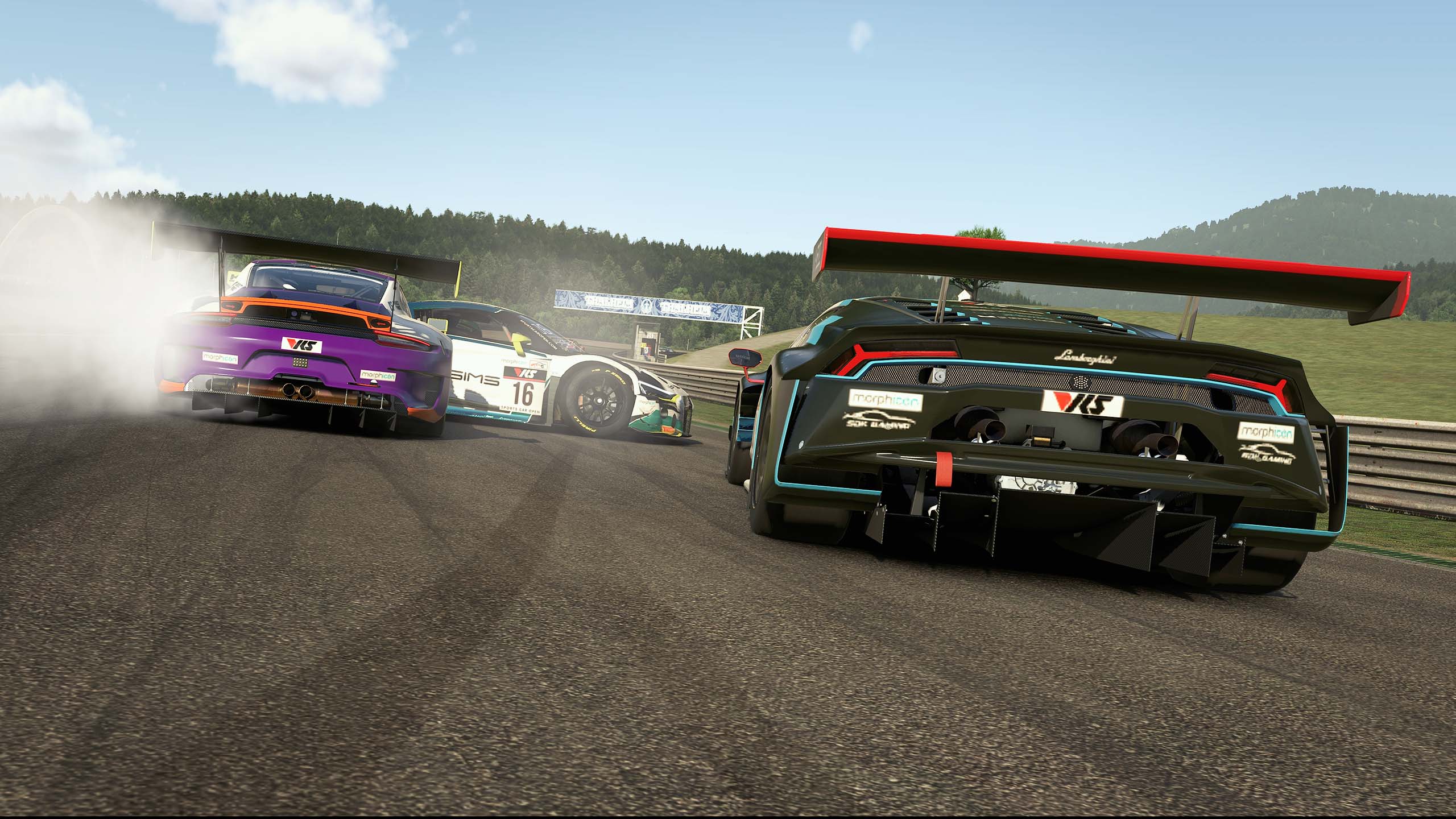 Meanwhile Jamie had been fortunate to miss the incident Kevin had found himself in , and took advantage of others cars falling down the order, with a deft move past the Core Mercedes on Lap 9 to take the P4 position.
However the ever threatening powerful BMW's were starting to pull some distance, with the Kova car slipping past Jamie a short while later pushing him back down to 5th. But Jamie was not going to let the Beemer pull a lead and break the draft, and kept fighting all the way to driver change.
Lap18 and the Kova BMW pits from P3, Jamie stays out and puts in some seriously fast laps unhindered by traffic or dirty air. Would the overcut work? Was Jamie's 'Hammertime' going to be enough?
Jamie pits and hands over to Zac, all eyes were on the Kova car, where would Zac exit the pits? 
In front of the Kova BMW was where  A brilliant tactical move played by the #99 car to get in front and back into P4.
The remaining laps saw Zac under heavy pressure from the Core AMG which he held at bay until a small twitch and loss of traction was enough to see the AMG slip past on Lap35.
What followed was Zac throwing every fake,fade, and trick in the book as he attempted to regain P4. Side by side, door to door they battled until finally, on Lap 39 Zac found the opening he needed. P4 was his again just before rolling over the finish line. Great result for the #99 car with only a Netcode incident on L27 between him and the Arnage BMW casting a shadow over the final result. Where would the protest and post race penalties come down?
Race 2 and again the Qualy wasn't as strong as had been hoped for with both cars lining up side by side on Row5 in 9th and 10th. But race pace is always good. Could they repeat it?
Yes they could, half a lap into the race and Maxime had already moved the #98 car up to P5, and by lap8 Zac had the #99 car right behind in P6.
As the driver changes approached , Maxime had fought his way to P4 and handed over the car to Kevin on Lap24. Again the Kova BMW had been threatening to ruin the podium , but another great tactical timing of the stops saw Kevin steal 3rd place from the Black BMW. Zac handed over the Lamborghini to Jamie for his final stint in 5th place after having fought back from 7th so it was Game On to the chequered flag for both cars.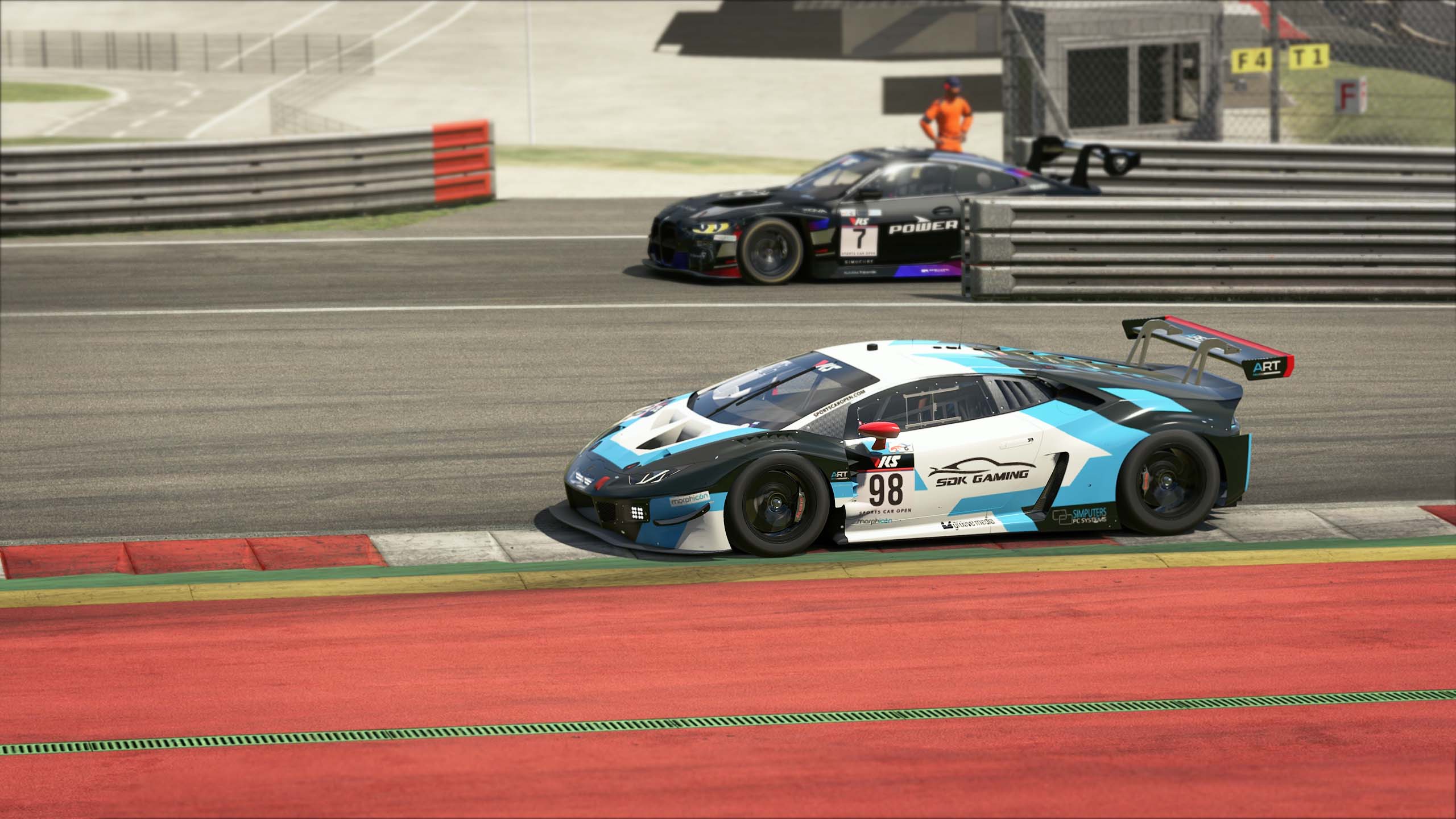 Lap26 was the turning point as once again the thundering BMW brute forced past Kevin to take the final podium space. But Kevin wasn't going to take that so easy. The final 2 laps were as intense as they come as Kevin drew on all his experience to take that place back. Superb driving from both cars going door to door through several series of corners. It went to the wire. The final lap arrived and they were still at it, the 2 cars side by side as the finish line approached, but it wasnt to be Kevin's podium,  the BMW just had the extra grunt it needed to just keep ahead as they crossed the line. Another intense finish to a great race.

Final position for the #98 car of Kevin and Zac, 4th, with the #99 car of Jamie and Maxime right behind in 5th. Superb racing all afternoon. With Kova finishing in front again the hope to grab P3 in the championship this round was over.
But there is one more round to go.
The post race penalties were finalised and the incident between Zac and the Arnage BMW deemed correctly to be a Netcode incident,  Zac was found at no fault. No penalties applied, points retained.
Race 1
4th #99 Apex Racing Team 2 (Jamie Fluke & Zac Campbell)
DNF #98 Apex Racing Team 1 (Kevin Ellis Jr & Maxime Brient)
Race 2
4th #98 Apex Racing Team 1 (Kevin Ellis Jr & Maxime Brient)
5th #99 Apex Racing Team 2 (Jamie Fluke & Zac Campbell)
After 120 mins of action in this weeks rounds of the VRS SCO Sprint Masters, the Apex Racing Team Lambourghini drivers gave their thoughts on the hard fought rounds at the Red Bull Ring
Jamie Fluke – Apex Racing Team 2 #99
Really happy with how things went this weekend. The car simply wasn't as strong as it had been in previous weeks, so a double top 5 is a big positive. I think as well it's the first race meeting where both races largely went to plan. Qualifying wasn't perfect, especially from myself where I didn't get a good lap in with a tow, so we had to fight our way forward once again. Despite lacking top speed compared to our competitors, we were able to hang on when we needed to and pick up really good points in our fight for 3rd. The Nurburgring Sprint-Strecke is a curious choice for the finale, hopefully our car is fast and we can get the job done!
Zac Campbell – Apex Racing Team 1 #99
"I'm really, really pleased with the way this weekend went! Not having a turbocharged car, and with the altitude of the track we thought we were gonna come in and really struggle, but to put up a decent fight was so much fun! Race 1 we got to have a super fun battle with Kieran Harrison, who I learned is a stand up guy on track. Raced me nice and clean and we got to have a super, super fun battle. Race 2 we got through a few guys at the start and really kept our nose clean so when I handed it over to Jamie he could just go! I'm really pleased for our team to come home with a P4 and P5, just a really good weekend all around and hopefully we can go into next weekend and try to grab a win before the season is over!"
Kevin Ellis jr – Apex Racing Team 2 #98
Another really strong weekend from the team! 3 top-5's across both cars at one of our weakest tracks shows the progress we've made these past few months. Still disappointed about Race 1 as if we'd picked up some points from that race, we'd have a safe top-5 in points however we got to fight pretty hard in the final round now to hold on!
One weekend, two races are all that's left between us and the final chequered flag of the VRS SCO Sprint Masters championship, and next week we head off to the Nürburgring on Saturday 28th August.
Catch all the action Live on RacespotTV