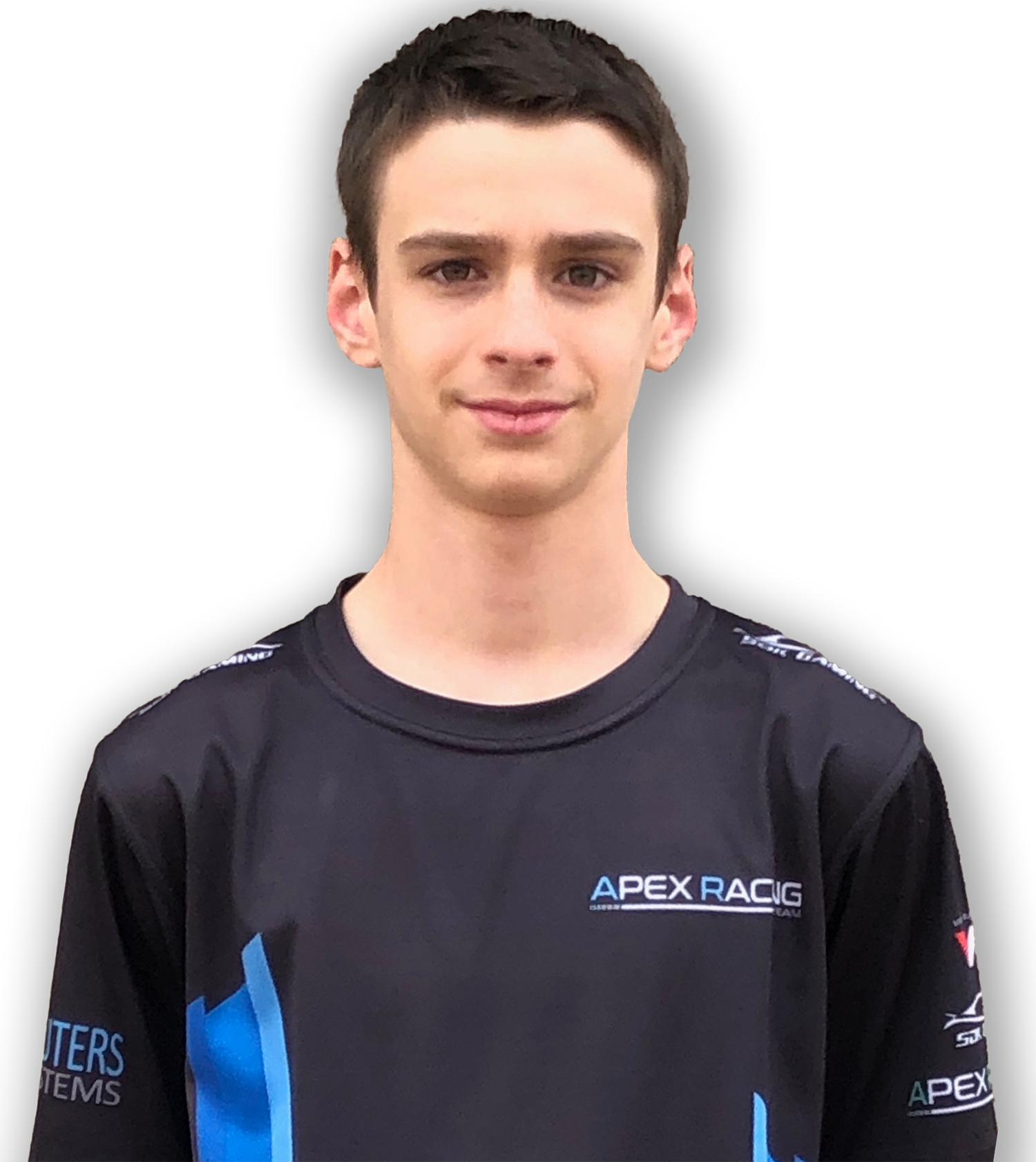 Elvis Rankin
Team Driver
Age : 13
Resides : USA
We are excited to announce and welcome our newest Team Driver, Elvis Rankin, to the Apex family. Elvis has been seriously impressing us with his performances in the Xtrememotorsports99 leagues in the US, and in the words of Kevin Ellis Jr who has been monitoring his journey "this kid can wheel!".
But who is this 13 year old real world racer that is making waves in the Sim Racing scene? We sat down with Elvis to get the lowdown on how his racing career is progressing both on track and in the Sim.
"I Am a very chilled and relaxed person and also have a fun button and always enjoy having a good laugh :)"
ART: What is your First motorsport memory?
Elvis Rankin: My parents paid $20 for a 'Try it – See if you like it' event at a local race track for quarter midget race cars (these cars are one-quarter the size of real full size midget race cars) when I was 4.5 years old.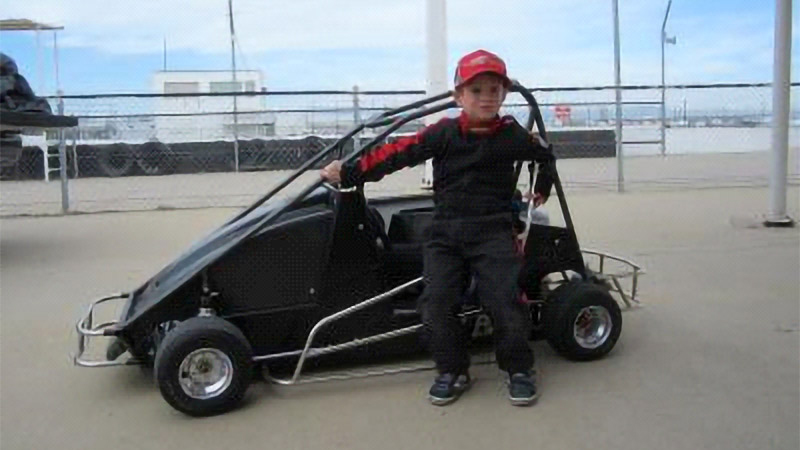 This is how the story goes according to my mom.
The guy running it tells her that 1 of 3 things is going to happen
He will never even get in the car, the noise alone will scare him off (NOT!!)
He will get in and get completely freaked out over the tightness of the belts, the helmet and the tethering of his hands to the steering wheel – yup, you guessed it 'claustrophobia' (Did not phase him a bit, his smile was so big – my mom says she did not know whether to be excited for me or scared.)
Now to the track… out of the 12 kids there were only 3 actually got on the track. I remember never wanting this to stop! Am I driving this? What are they saying to me, I cannot hear them; I kept going till it ran out of gas, round and round and round I went… up to the wall, down to the bumps!
Once I turned 5 (that's the age they let you get on the track with other kids), my dad bought me a car and I started racing with my family as my race team. My dad and Grampy were the crew chiefs, my mom and grammy called themselves the wellness ambassadors.
I had the BEST race team.
I went on to capture the USAC.25 National Championship title in 2016
My race car, my first race weekend!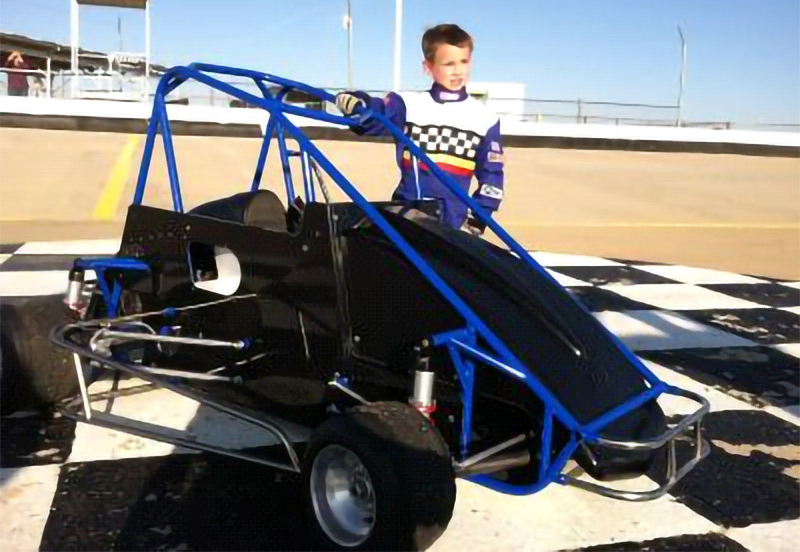 ART: Any other real-world racing experience?
Elvis Rankin: My transition from oval racing to road course racing started a bit as a joke – some random dude at a race track I was at in Las Vegas says to my dad, "how hard can it be to go in a circle… real racers can turn left and right." Well me being a 'REAL RACER' I had to try this left/right thing. My mom asked around and found a guy in Las Vegas who did a pay and ride in a bandolero at a road course.
So my parents and I came to a race weekend to watch, I was 9 years old at the time. The team owner was not sure about letting me drive the car. I did mention to him that I was good at left/right on my simulator.. yeah, that did not go over well at all. Sad no one has faith in the sim…
2 weeks later back to Vegas, my time to show I am a "Real Racer"
In my head I was Aryton Senna of course, I had 2 of the best teammates, they were super confident in me and filled me in on the important stuff.
Let's just say my seat time in the sim was not in vain; everyone could not believe I had never done this before. What I remember most was the car ended the weekend in one piece. I finished 2 full days of practice, qualifying and racing with no issue; finished top 5 both days.
I went on to win back to back championships in the INEX Silver States Road Course Bandolero Bandit in 2018 & 2019 and the 2018 INEX World Finals Road Course Bandit Champion
ART: How and when did you get started in Sim Racing?
I was 7 years old when my parents bought me my first sim rig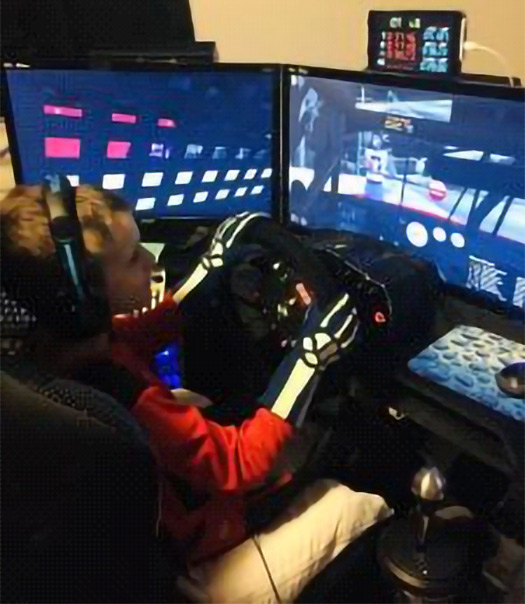 ART: Your most memorable race in sim racing?
Elvis Rankin: My most memorable race was Big C MX-5 challenge, Season 5 Race 1. The week prior to the race they put up practice races,  I got wrecked out of both. I wasn't feeling confident going into the race and thought it was going to be a demolition derby. I had lots of pressure with my teammate being Robert Hartley and I had lots of expectations to live up to. I managed to qualify p3 and stayed in third for the majority of the race. I decided to pit half way through, when I came into my pit stop I was physically shaking and I didn't know if I was going to be able to finish. After 8 minutes of running alone, being the only car that pit early, I came out 2.8 seconds ahead of the leading pack. Every lap felt like an hour, every corner a minute. The gap was slowly going down and on the white flag, I was thinking to myself "One clean lap and I've got it". I made a few mistakes in that lap and at the end of the lap the rest of the field were 0.5 behind me. I managed to hold off the cars behind who had better tires and won the race!
ART: Proudest achievement in sim racing?
Elvis Rankin: First, winning back to back triple crowns, 6 total titles in the Xtrememotorsports99 League:
– Classic Sprint Series in the Mazda MX-5 (Season 17 in 2020 and Season 18 in 2021)
– Sports Car Series in the Porsche Cayman GT4 (Season 1 in 2020 and Season 2 in 2021)
– The 'GT Challenge' in the Ferrari 488 GT3 (Season 3 in 2020)
– World Challenge in the Porsche 991 GTE (Season 2 in 2021)
Xtrememotorsports99 was the very first league I ever competed in, in January 2019.
Second would be joining the Apex Racing Team surrounding myself with great people to learn from and race with.
ART: And a few quick fire questions to finish
First racing game? F1 2016
Ultimate ambition in sim racing? iRacing World Champ
Any post-race celebrations? Mango Sorbet in a Special mug with an F1 car on it and chequered flags
Pre-race rituals? Music blaring as loud as possible in my headphones
One car that should be on iRacing? 2022 New era F1 car
One track that should be on iRacing? Monaco
Racing hero? Aryton Senna
What do you drive on road? Nothing Since I am not old enough to drive on the road 😉
Dream road car? Lamborghini Centenario
Dream race car? Red Bull Racing F1 Car
F1 or Moto GP? F1
Greatest frustration in sim racing? Long tracks like Lemans, Nordschleife
Best advice for a budding sim racer? Always put yourself around people that are better than you
If you were the Bernie Ecclestone of sim racing, what would you change? I would change the World Championship cars to GT3 and F3
Favourite racing film? Senna
If you could choose any track/teammate/car for the ultimate race – what would your choices be? Sebring / Ayrton Senna / F1 Car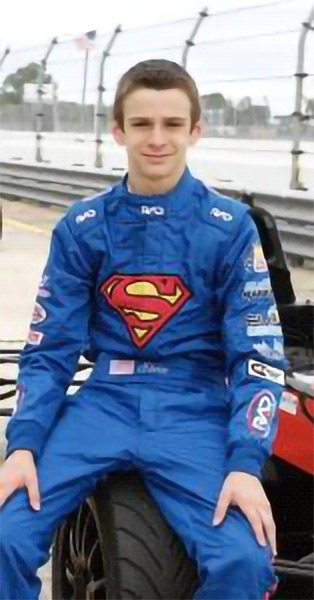 If you want to know more about some of the series that have got Elvis Rankin where he is today check out the following websites
.25 (quarter) Midgets – A Quarter Midget car is a scaled-down version of an actual midget racer, approximately 1/4 scale.
Bandolero  – The Bandolero Car is a turnkey, spec-series racer designed for drivers as young as eight years old and the young-at-heart at any age.
US F4 Series – Launched in 2014, FIA Formula 4 was created to offer young  race car drivers around the world the opportunity to take the  first step from karting into the world of open-wheel racing.